Compositions | Publishers | Awards & Commissions | Recordings | Work | Education | Writings | Biographies and Reviews | Speeches | Venues | Bios | Interviews | Critical Acclaim | Photo Album
Beth Anderson, Composer
At the start of the twenty-first century, composer Beth Anderson is one of the most exciting personalities on the American classical music scene, bucking trends of formalism and attempting to make touch with her inner self, tastes and identity in her music.
--David N. Lewis, Assistant Classical Editor, All Music Guide
It sounds like folk music, but from where?
--Laurie Spiegel, composer
A refreshing simplicity without naivete--deeply felt, direct, and yes, beautiful.
--Alan Gillmore, musicologist
| | |
| --- | --- |
| | Beth Anderson (M.F.A./M.A.) is a critically acclaimed composer of neo-romantic, avant-garde music, text-sound works, and musical theater. Born in Kentucky, she studied primarily in California with John Cage, Terry Riley, Robert Ashley and Larry Austin at Mills College and U.C. Davis. She is a member of Broadcast Musicians Inc. (BMI), the American Composers' Forum, International Alliance of Women in Music, the American Music Center, Poets and Writers andNew York Women Composers. She resides in New York City where she produces Women's Work, a concert series, for Greenwich House Arts. |
You can visit her page at MySpace at http://www.myspace.com/bethandersoncomposer and have a look at http://www.ubu.com/sound/anderson_beth.html and also MySpace page at http://myspace.com/womenswork2007

Find music from Swales and Angles, Quilt Music, Chili Con Tango, and Peachy Keen-O at the ITunes Music Store.

Beth has been working with New York video artist Dmitriy Khavin to create two new videos based on her beautiful Pennyroyal Swale for string quartet. Mr. Khavin matched the music to the magnificent Kentucky landscapes and other photos of James Archambeault (http://www.jamesarchambeault.com/ . Both videos are now completed and posted on YouTube (http://www.youtube.com/).

To view the videos, go to the YouTube homepage and type in Pennyroyal Swale or Beth Anderson.

You can also go directly to the videos with these links:

Pennyroyal Swale, Part 1 - http://www.youtube.com/watch?v=H31YzXCq0Sg

Pennyroyal Swale, Part 2 - http://www.youtube.com/watch?v=bfPcu_buWkg
Women's Work
We've lost all our funding. Here's where to see the video about the calamity and how to make a tax-deductible donation.
The Women's Work 2011 series will be concerts on March 10, 24 and 30 in Manhattan and Brooklyn, showcasing new and historic music by women from around the world. This will be the continuation of the very popular series that has been presented at Greenwich House Music School in Manhattan for many years. The series will be directed and curated by Beth Anderson. Many of the composers will be in attendance and will speak at the performances, All programs are at 8 PM and are subject to change.
The March 10 concert will be given at Renee Weiler Hall of Greenwich House Music School and will feature the superb saxophonist, clarinetist , multi-instrumentalist and recording artist Demetrius Spaneas. He will present a program of small chamber works by Beth Anderson, Alexandra Gardner, Carol Alban, Molly Thompson, Denise Broadhurst, Lynn Job, Judith Lang Zaimont, Jill Miller-Thorn and Joan Tower. Visit Demetrius at http://www.dspaneas.com/.
The March 24 concert will also be given at Weiler Hall of GHMS, this time by soprano and Director of the Opera Workshop and Assistant Professor of Voice at Syracuse University Eileen Strempel, with piano accompanist Gilya Hodos. Titled Love, Lust and Longing in Poetry and Song, it will include songs to lyrics by Pushkin from Pauline Viardot-Garcia, songs to lyrics by Margaret Atwood (composed for Ms. Strempel) by Lori Laitman, Elisenda F·bregas, Libby Larsen, Judith Cloud and Amanda Harberg, songs to lyrics by e. e. cummings (composed for Ms. Strempel) from Christine Donkin, Libby Larsen, Regina Harris Baiocchi, Jocelyn Hagen, Judith Cloud and Lita Greir and a selection of songs made famous by performers such as Bessie Smith, Billie Holiday and Ma Rainey. Visit Eileen Strempel at http://www.samnyc.us/artist.php?id=estrempel.
The March 30 concert will be presented at St. John's Church in Park Slope, Brooklyn. The performer will be internationally renowned organist and composer Barbara Harbach, who will perform music by Fanny Mendelssohn, Hilary Tann, Sharon J. Willis, Elizabeth R. Austin, Sarah Meneely-Kyder and Elizabeth Stirling. Ms. Harbach will also perform several of her original works and arrangements. Visit Barbara at http://barbaraharbach.com/.
Because of changes at our usual Greenwich House Music School location, they are no longer able to present us as they have in the past, Therefore, we are raising the money on our own to continue to present the Women's Work series. We will still offer two of the three concerts at GHMS because it has been our home for so many years, but we need your help with covering the rental costs and other expenses associated with our continuing to present these important concerts.
Current Recordings
FEMINAE IN MUSICA recorded by violinist Aleksandra Maslovaric and pianist Tania Fleischer includes BELGIAN TANGO and TALES #1 & #3. Spanning two continents and three centuries of women's music, the CD includes works composed by Lili Boulanger, Barbara Heller, Francesca Lebrun, Aleksandra Maslovaric, and Johanna Senfter. Released December 2007. Available at http://www.amazon.com/Feminae-Musica-Aleksandra-Maslovaric/dp/B000ZXHBRM/ref=sr_1_10?ie=UTF8&s=music&qid=1197124282&sr=1-10
AMERICAN WOMEN: Modern Voices In Piano Music recorded by Nancy Boston includes SEPTEMBER SWALE along with new piano music by American women composers Deussen, Galbraith, Zaimont, Moon and Diemer just released September 2006. Available from CD Baby. You can hear some at http://cdbaby.com/cd/nancyboston
POINTS OF ENTRY:The Laurels Project Vol. I Comment for flute solo (based on a poem by Dorothy Parker) is just out on a Capstone CD (CPS-8759) performed by Nina Assimakopoulos.
SONGS IN TRANSIT: An American Expedition Soprano Melanie Mitrano recorded Lullaby (words by Auden) and Beauty Runs Faster (words by the composer) for her new CD is on Capstone CPS-8756. Jonathan Woolf at MusicWeb International says: "...Beauty Runs Faster is ...delicious..." You can hear parts of the songs at: capstonerecords.org and capstonerecords.org Visit Melanie at melaniemitrano.com

QUILT MUSIC American Record Guide Critics' Choice Selection for 2005! On Albany Records (TROY709) this is an all-Beth Anderson CD including the large piano piece, Quilt Music, performed by Joseph Kubera along with three song cycles (Cat Songs, Dreaming Fields, and Harlem Songs) performed by baritone Keith Borden with pianist Johannes Wallmann, and four violin and piano pieces (Belgian Tango, Dr. Blood's Mermaid Lullaby, and Tales #1-2) performed by violinist Ana Milosavljevic, with pianist Terezija Cukrov. There is also a new swale - Cleveland Swale performed by Darren Campbell & Kirsty Matheson, string bass, and Johannes Wallmann, piano. The cover is a photograph of one of Beth's grandmother's crazy quilts. Order from amazon.com


SWALES & ANGELS this all-Beth Anderson CD from New World includes March Swale, Pennyroyal Swale, January Swale, Rosemary Swale, Piano Concerto, New Mexico Swale, and The Angel. It can be ordered from amazon.com or from Tower Records. The wonderful performers include the Rubio String Quartet, Jessica Marsten, Joseph Kubera, Gary Schneider, Andrew Bolotowsky, David Rozenblatt, Darren Campbell, and Andre Tarantilles. Fanfare Magazine had a review and a feature article about my work in their September/October 2004 issue and this recording has received a lot of positive press.


PEACHY KEEN-O The all-Beth Anderson CD includes Country Time, Torero Piece (the 7:49 version), Tower of Power, Peachy Keen-O, Ocean Motion Mildew Mind, Yes Sir Ree, I Can't Stand It, Joan and Ode performed by Wharton Tiers, Michael Blair, Kitty Mraw, Ana Perez, Linda Collins, Beth and Marjorie Anderson including text-sound, graphic scores, electro-acoustic, and electronic music on Peachy Keen-O, Pogus 21030-2 CD, 2003
Order from amazon.com or write Pogus, 50 Ayr Rd., Chester, NY 10918-2409 or go to pogus.com for more info and to order using Pay Pal. Peachy-Keen-O is available in the Amazon Mp3 store!

Net Work (piano solo, Mary Kathleen Earnst, pianist)
Trio: dream in d for violin, cello and piano on Two by Three: Music by Women, North South Recordings, 1998
Order from amazon.com
Minnesota Swale performed by the Slovak Radio Symphony, conducted by Joel Eric Suben on New Music for Orchestra, Opus One, 1995
Order from amazon.com

September Swale for mandolin and guitar performed by Daniel Ahlert & Birgit Schwab on Chilli Con Tango, available on Antes/Bella Musica CD 31.9153 To hear some of it, go to newmusicbox.org. Order from amazon.com

Lullaby for voice and piano performed by Francis John Vogt & Ginger Yang Hwalek available on Capstone Records CDS-8702 entitled The Truth About Love: music and the poetry of W. H. Auden. Order from amazon.com
Rhode Island Swale for piano solo performed by Mihai Maniceanu available on a set of 3 CDs documenting the Bucharest Living Music Days from: Dwight Winenger at diwinenger@cs.com
Recent & Upcoming Performances
Please call to confirm time and dates!
August 22, 2009

In the Hamilton Fish Park Branch Library of the New York Public Library Andrew Bolotowsky performed my SHAKUHACHI RUN for solo shakuhachi on the Where are the Women?! Concert.

May 21, 2009

AUGUST SWALE was performed by the Quintet of the Americas at the Sallvaltion Army Center in Jackson Heights in Queens, NY.

May 15, 2009

LULLABY was performed on a program entitled Saints, Sinners, & Fallen Women:.faces of the human soul that featured songs from Gregorian Chant through Jerome Kern, Puccini, and Beth Anderson. It was held at the First Congregational Church of South Portland, Maine. MaineKaren Pierce, soprano with Shirley Curry, piano. http://www.karenpierce.org and http://www.fccucc.org/

May 9, 2009

Andrew Bolotowsky performed my SHAKUHACHI RUN for solo shakuhachi on the Where are the Women?! concert at The Williamsburg Art and Historical Center in Brooklyn.

April 26, 2009

AUGUST SWALE was performed by the Quintet of the Americas at the Botanical Garden in Queens, NY.

March 25, 2009

DARK SONGS and NIGHTSONG were performed on the Women's Work series at Greenwich House in the Renee Weiler Concert Hall, New York City by Andrew Bolotowsky, flute, Mary Hurlbut, soprano, and Mimi- Stern-Wolfe, piano.

March 18 and 25, 2009

Women's Work 2009 celebrated its 6th year as a concert series at Greenwich House Arts at 8 PM in the Renee Weiler Concert Hall, 46 Barrow Street, New York City. I was the host. For whole downloadable concert and interview podcasts along with program notes and bios, go to our wonderful MySpace page at http://myspace.com/womenswork

April 20, 2008

KENTUCKY SWALE for string orchestra was performed on the 2008 Beijing International Congress on Women in Music. The concert was held in the auditorium of The Forbidden City in Beijing. The International Alliance for Women in Music (IAWM) and the China Conservatory of Music (CCM) were the producers. More information is available at http://www.iawm.org/congress2008.htm.

April 12 at 8 PM and April 13, 2008 at 3 PM

JASMINE SWALE for violin, viola and cello was performed in Santa Cruz, California presented by the Santa Cruz Chamber Players. The performers were Kate Rubin, violin; Polly Malan, violist; Aria DiSalvio, cello. The concert was at Christ Lutheran Church, 10707 Soquel Drive, Aptos. Visit http://www.scchamberplayers.org

March 29, 2008 at 7:30 pm & March 30, 2008 at 3 pm

THE GOOD CHRISTMAS CAT and WYNKEN, BLYKEN, & NOD for SATB chorus were performed by Acappellago, Dennis R. Smith, music director, on a concert entitled Escape to...Wonderland. Saturday's performance was held at Mayslake Peabody Estate, 1717 W. 31st Street, Oak Brook, IL 60523 and Sunday's performance was held at Naperville Congregational Church, 1 Bunting Lane, Naperville, IL 60565. Visit http://www.acappellago.org

March 9, 2008 at 3 pm

THE GOOD CHRISTMAS CAT and WYNKEN, BLYKEN, & NOD for SATB chorus were performed by Acappellago, on the Louise Beem Women Composer Festival with the Salt Creek Sinfonietta, Dan D'Andrea, music director. The concert took place at the Redeemer Lutheran Church, 139 East 1st Street, Hinsdale, IL 60521. Visit http://www.saltcreeksinfonietta.com

Jan. 19, 2008

Tricia Strong sang LULLABY and TIME STANDS STILL. The recital took place at Carswell Recital Hall, Meredith College, Raleigh, NC 27607 with accompanist Dr. Jim Fogle.

January 14, 2008

SHAKUHACHI RUN was performed by Andrew Bolotowsky at Donnell Library, 20 West 53 Street, New York City.

December 15, 2007

COMMENT was performed by Demetrius Spaneas at the Mayakovsky Library, St. Petersburg, Russia. The concert was entitled American Corners and was sponsored by the US State Department. Check out his web sites at http://www.dspaneas.com and http://www.myspace.com/demetriusspaneas and http://www.dspaneas.blogspot.com.

December 2, 2007 2:00

BELGIAN TANGO was performed by the Four-Hand Piano Duo: Bonnie Anderson and Donna Gross Javel at 100 Newbury Court, Concord, MA 01742.

November 20, 2007

CAT SONGS for baritone and piano were performed by B. Makal & K. Outenberger and PENNYROYAL SWALE for string quartet were performed by M. Kogut - Ślanda – violin, O. Kwiatek – violin, M. Olearczyk – viola, M. Łapka – cello in the Oratorium Marianum of the Lipinki University of Music in Wroclaw, Poland. Beth was there to lecture on her work. See http://www.amuz.wroc.pl/index_e.html and http://www.uni.wroc.pl/HISTORIA/ORA-PL.HTM The concert was part of the American Music Festival 2007.

September 16, 2007

Andrew Kohn performed Ghent Swale at Frick Fine Arts Auditorium, University of Pittsburgh.

July 19, 20 and 26, 2007

Belgian Tango, Dr. Blood's Mermaid Lullaby, Tale #1 & Tale #2 were performed by Ana Milosavljevic, violin and Terezija Cukrov, piano (available on QUILT MUSIC, Albany CD TROY709) in Serbia (Serbia Cultural Center in Cacak and Castle of Culture in Vrnjacka Banja), and on July 26 in Croatia (Terra Magica Music Festival in Euphrasius' Basilica, Porec). Further info is available on her web site at http://www.ana-violin.com

July 8, 2007

Sweet Jesus Come and Stay and Who Is This Jesus (both with words by Jo-Ann Krestan) were sung by the composer at the 2007 Guyana Folk Festival Fundraising Symposium at St. Gabriel's Episcopal Church in Brooklyn.

June 4, 2007

COMMENT for flute solo was performed on the NACUSA NATIONAL CONCERT by Daniel Kessner at Christ & St Stephen's Church (120 West 69th St) in New York City. http://www.music-usa.org/nacusa

May 13, 2007

In The Company Of Women was performed by the SATB church choir and the steel drum ensemble conducted by Leonard Lehrman at St George's Episcopal Church, http://www.stgeorges-hempstead.org in Hempstead, New York.

March 21, 2007

A group of my songs were performed by German mezzo-soprano Marcellina van der Grinten accompanied by pianist Jorg Ritter on the Women's Work series at 8 PM at Greenwich House Arts, in Manhattan.

February 11, 2007

Meg Cotner, harpsichordist, performed my RHODE ISLAND SWALE and SEPTEMBER SWALE at 4pm at the Women's Studio Center in Long Island City, New York.

January 6, 2007

I performed a set of my text-sound pieces (IF I WERE A POET, COUNTRY TIME, THE PEOPLE RUMBLE LOUDER, YES SIR REE, I CAN'T STAND IT, I WISH I WERE SINGLE AGAIN, and OCEAN MOTION MILDEW MIND) at 8PM at Issue Project Room, 400 Carroll Street, between Bond and Nevins, in Brooklyn, New York. The concert was a part of a festival celebrating small recording labels, in this case, Pogus.

January 2, 2007

JASMINE SWALE for violin, viola, and cello was performed by the Jade String Trio at Saint Peter's Church, New York City. The concert was sponsored by New York Women Composers.

December 3, 2006

New York Women Composers presented Melanie Mitrano, soprano with Judith Munro de Wette, piano in the performance of my KNOTS (words by R.D. Laing) and LULLABY (words by W.H. Auden), along with music by Julie Mandel, Mary Ann Joyce-Walter, Gladys Moskowitz, Binnette Lipper, Joelle Wallach, Margarita Zelenaia, and Mitrano. The concert was located at Caldwell College in New Jersey.

November 18, 2006

ROSEMARY SWALE and PENNYROYAL SWALE for string quartet were performed by The Euphonia Quartet (Paula Souza Lima, Cristina Rapp, Tatiana Paciello & Guilherme Faria) at the Teatro Cultura Inglesa in São Paulo, Brazil at 6:30pm.

September 16, 2006

Duo Ahlert&Schwab performed SEPTEMBER SWALE for mandolin and guitar on a program of women composers' music entitled Nacht der Klange On Museumsnacht in der Stadtkirche St. Petri Petrikirchhof 7, 44137 Dortmund, Germany, telephone: 0231-7214173, , 22h - ca. 22. 30h

July 3, 2006

Organist Yves Senden performed my MUSIC FOR CHARLEMAGNE PALESTINE in Ghent, Belgium at Sint-Augustijnen Kerk (Church), near the Gravensteen at 8:00 PM. along with music by Boudewijn Buckinx, Frank Nuyts, Frans Geysen, Tom Johnson and Kagel.

April 24, 2006

Artis Wodehouse performed the 25 minute QUILT MUSIC for solo piano at Merkin Hall (67th Street/Broadway) in New York City. The concert also included the music of Anthony Heinrich (another Kentucky composer), Arthur Bird's music for harmonium and rare Duke Ellington transcriptions.
About Beth Anderson's Music
Beth Anderson's early work was considered post-Cagian, non-academic; but, more recently, her music has become more lyrical while retaining the cut-up quality of the minimalists. Many of her compositions have been recorded by various artists on different labels.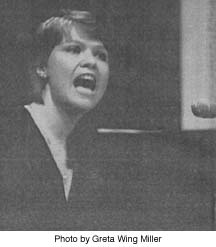 Her work has received numerous awards and grants including a Copland Fund grant to make a CD on New World, a National Endowment for the Arts grant for career development in music composition, a National Public Radio Satellite Program Development Fund grant for the development of a text-sound radio series entitled POETRY IS MUSIC, several Meet The Composer grants from the New York State Council on the Arts, a Foundation For the Contemporary Performance Arts grant, a National Federation of Music Clubs' Award of Merit for contributions to women in music, a P.S. One/Institute for Art and Urban Resources residency, a ZBS Media grant to support a residency/tape production, an Elizabeth Mills Crothers Award, a Biggerstaff Grant, and an Alumni Fellowship to support her graduate work at Mills College. She has been commisioned by Collegium Musicum Carinthia, the Minnesota Synfonia, the Staten Island Symphony, the Cabrillo Music Festival, the San Francisco Conservatory's New Music Ensemble, the University of the Redlands' New Music Ensemble, the Montclair College Dance Festival, Daniel McCusker & Dancers, and many others.
She served as resident composer at the Chamber Music Conference of the East/Composers' Forum in Bennington, Vermont and was chosen as contemporary competition composer for the 2002 Vakhtang Jordania International Conducting Competition in Kharkov, Ukraine.
Ms. Anderson's publishers include Recital Music, Antes/Bella Musica, and E.M.I/Joshua Corporation/General Music. Several catalogs include her music. The most complete catalog of her work is probably the New York Women Composers, Inc., catalog.
Ms. Anderson is included in many reference works, including The New Grove Dictionary Of American Music, Het Tweede Thema, The New Grove Dictionary Of Opera, The Popular Guide To Women In Music, Contemporary Composers, and The Pandora Guide To Women Composers-British And American. An extensive interview with her is included in the archives of the American Composers Oral History Project at Yale University.
New Performances, Recordings, and Commissions
Performances and recordings of my music and commissions of new music are very welcome.

For more information about Beth Anderson contact Jeffrey James Arts Consulting
Jeffrey James, President
45 Grant Avenue
Farmingdale, NY 11735 USA
Tel & Fax: 516-586-3433

or

For scores, contact me at:

Performance royalties must be paid to BMI, but the fees are quite low. If the hall has a BMI license, then there's no additional fee. If you have any questions or need a tape of previous performances of a piece, please contact me at beth@beand.com.
Donations
Your Opportunity To Participate
I rely on the generosity of individuals to provide the additional support needed to compose and mount concerts. Your financial support will be of great assistance in ensuring the continued success of my music in future seasons. Your gift will be much appreciated, and it is deductible for Federal Income Tax purposes. Chamber Players International is a non-profit organization, as designated in section 501(c) (3) of the Internal Revenue Code. For additional information on gifts, bequests, or gifts of appreciated securities, please contact David Winkler at dwinkler1@rcn.com and please send me email to let me know you are doing this at beth@beand.com To make contributions make the check out to Chamber Players International and label it "for Beth Anderson special project" and send to: 120 E 34 St #15L, NY, NY 10016. If your employer has a matching grants program, please include a form!
Miscellany From The Dark Past:
Regarding my childhood, my grandmother could play by ear and she loved to hear me practice and would say after every piece, "That was pretty. Play that one again." She was a booster. I had two women piano teachers who encouraged me to compose--Margie Murphy and Helen Lipscomb. Helen was also a composer and we used part of my lessons for composition.
When I was in high school, I read John Cage's books and fell in love with the ideas and the excitement of the avant garde. My music, as a result, moved over to what has been called post-Cagian, non-academic. That lasted until about 1979 at which point I changed. My music is now quite lyrical, sometimes called neo-Romantic, and full of cut-ups/collage of newly composed materials. Since 1985 I have been composing mostly swales for various instrumental combinations.
A swale is a meadow or a marsh where there is nourishment and moisture and therefore, a rich diversity of plant life. My work, since 1984, has been made from swatches (of newly composed music, rather than found music) which are reminiscent of this diversity. When a horse named Swale won the Kentucky derby several years ago, I discovered the word and have used it extensively. "Pennyroyal Swale", "Rosemary Swale", "January Swale", and "March Swale" for string quartet, "Jasmine Swale" for string trio, "Brass Swale" and" Saturday/Sunday Swale" for brass quintet, "September Swale" for mandolin and guitar, "April Swale" for viola and harpsichord, "Guitar Swale" for guitar duet, "May Swale" for viola solo, "Minnesota Swale" for orchestra, "New Mexico Swale" for chamber ensemble, "August Swale" for woodwind quintet, "Flute Swale", "Rhode Island Swale" for harpsichord, and the recent, "Three Swales" and "Mourning Dove Swale" for string orchestra.
---
Home | Compositions | Publishers | Awards & Commissions | Recordings | Work | Education | Writings | Biographies and Reviews | Speeches | Venues | Bios | Interviews | Critical Acclaim | Photo Album
---
Copyright 1996-2011 Beth Anderson
beth@beand.com
Last Updated January 3, 2011